April 2013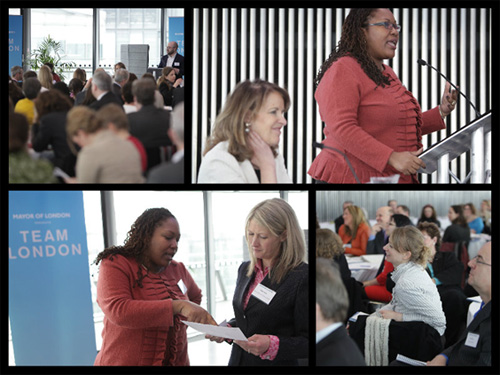 Greetings,
This month we celebrate National Volunteer Week, April 21-27. National Volunteer Week is about inspiring, recognizing, and encouraging people to seek out imaginative ways to engage in their communities. It's about demonstrating to the nation that by working together, we have the fortitude to meet our challenges and accomplish our goals. Look for opportunities on NYC Service to use your BLANKfor good and learn how your organization can join National Volunteer Week!
News at NYC Service
NYC Service Visits Team London
In March, Chief Service Officer Diahann Billings-Burford went abroad to present at the London Conference with NYC Service Counterpart Team London. Over 100 Executive Directors of London's 3rd Sector (non-profits) heard how the NYC Service model has become so successful and how it continues to grow service in New York City. To learn more about Team London, visit here.
Thank You for Your Service!
On Saturday, March 16, NYC Service, The Corporation for National and Community Service, and New York Cares organized multiple service projects in culminating AmeriCorps Week, recognizing the many individuals who have made a tremendous impact in helping New York recover from Hurricane Sandy. We want to take this opportunity to thank the local communities and volunteers who made the day a success!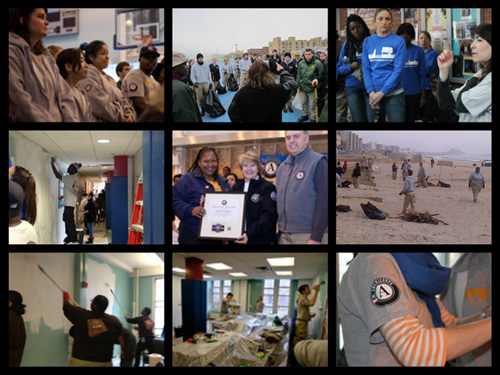 The RVC Survey is Now Available
The RVC Survey is now available here. We are part of a network of 10 Regional Volunteer Centers (RVCs) across the state. We are excited to further our goal of promoting and improving volunteerism in New York. This survey will ask you for data from the period of September 1, 2012 through February 28, 2013. Please complete it to help us showcase the amazing work you do!
News At NYC Civic Corps
Host Site Application
The Host Site Application for nonprofits organizations and City agencies for the 2013-2014 program year of the NYC Civic Corps will soon be available. Stay tuned to NYC Civic Corps for the application launch. The NYC Civic Corps is an AmeriCorps program run by NYC Service. The program unites a diverse group of professionals to serve full-time with partnering organizations, working to increase their organizational capacity to engage volunteers and build sustainable volunteer initiatives. The 2013-2014 program year will run from September 1, 2013-July 7, 2014.
Volunteer Opportunities
Hour Children Mentoring
Become a mentor and make a real impact on a child's life. Hour Friends in Deed mentoring program provides a child, between the ages of 4-17, with a caring adult who commits to building a healthy relationship with a young person. The mentor becomes someone that supports and guides the child with positive academic, career, and personal goals. Mentors and mentees find fun activities to do together, like playing sports, going to the movies, doing arts & crafts, and many more fun activities! To learn more, click here.
Career Exploration Coach
NYC Small Business Services is recruiting volunteers to be Career Exploration Coaches. Career Exploration, a component of Scholars at Work, will serve approximately 200 seniors at eight high schools in Brooklyn and Queens. Volunteers will assist a staff facilitator from the Workforce1 Industrial and Transportation Career Center in leading group activities with students including resume development and refinement, mock interview practice, job search guidance, articulating career pathways, and mentoring opportunities with professionals and industry experts. To get involved, click here.
One NYC One Nation
Are you interested in directly interacting with City agencies and learning about public services? Do you want to discover new ways to become involved in your community, discussing safety, education, health, public assistance, and other important topics? Become involved with Know Your Rights and Responsibilities Forums-- a vital component of One NYC One Nation, a joint partnership between the Mayor's Office of Immigrant Affairs, The New York Community Trust, and One Nation. Forums can be part of a PTA meeting, English class session, or panel, and Mayor's Office of Immigrant Affairs (MOIA) can supply free language interpretation. To learn more, visit the link.
Cornerstone Mentoring
Part of our Mentoring for Achievement Initiative, NYC Service collaborates with the Young Men's Initiative to assist in recruiting mentors. Mentors will support youth in fifth through ninth grades during the transitions from elementary to middle school and middle school to high school by cultivating positive personal relationships and community involvement. To become a mentor, click here.
4th Annual Reading Everywhere Celebration
Throughout the month of May, Literacy Inc. (LINC) will be hosting its fourth annual Reading Everywhere Celebration, which is their culminating project for the academic year. If you are interested in serving as a volunteer for LINC's Reading Everywhere Celebration, click here. Volunteer orientations are every Monday from April 8 through April 22.
Special Projects & Announcements
Semester of Service Grant
Youth Serve America (YSA) is delighted to announce a new partnership with Deutsche Bank, developed to support New York City Department of Education teachers as they engage their students in service-learning. K-12 New York City Department of Education educators may apply now through April 30, 2013. Consistent with YSA's overall goal of reaching out to engage underserved youth, applicants will be asked to demonstrate that they are in schools serving a 50% or greater free/reduced lunch student demographic. The online application can be accessed here.
House For Hunger
In 2011, two-time Grammy Nominee Avicii, aka Tim Bergling, and his manager, Grammy nominated executive producer Ash Pournouri, created House for Hunger, a non-profit charity created to address the growing problem of global hunger. Bergling and Pournouri felt that the values of generosity, love, and unity that house music has always been about had been given short shrift by the media. They created House for Hunger to demonstrate the positivity of the music and its fans, while addressing the issue of hunger in a very concrete way. Last year, the duo set forth on a yearlong tour to promote the nonprofit, where all proceeds contributed to the cause; to date they have given 2.5 million to address hunger and nutrition issues around the U.S.
This year House for Hunger looks to promote their nonprofit further and partner with other nonprofits providing hunger related services to New Yorker's. If your organization provides hunger related services and would like to be connected to the efforts, contact mcolaizzi@cityhall.nyc.gov for more information.
Bronx Volunteer Coalition
The Bronx as a borough is chronically underserved, and the Bronx Volunteer Coalition aims to change this by promoting volunteer activity and helping organizations of all sizes to learn from one another. The Coalition is scheduled to hold a launch event on May 14th as part of Bronx Week celebrations, and a joint community service project is in the works. If you are interested in joining the Bronx Volunteer Coalition, please contact the coordinator, Samara Weiss, at sweiss@bigsnyc.org, or by calling 646-274-6035.
Learn more about opportunities to volunteer by visiting NYC Service.
Remember to like us on facebook and follow us ontwittertoo!
Donate to any of the programs listed above through the Mayor's Fund to Advance New York City
| Contact 联系 | Last Revised 04/05/2013 |
©2008-20113NKENGLISH65, NONPROFIT WEBSITE | POWERED BY BLUEHOST.COM